MERRY CHRISTMAS/HAPPY HOLIDAYS & HAPPY NEW YEAR!
Surrey, British Columbia - I want to take this opportunity to wish all of our readers the best the Holiday Season has to offer. Christmas means you'll likely have a tree in your living room. Some of you will opt to purchase a live tree from a lot. Read some tips about your tree purchase from the National Christmas Tree Association! Christmas tree fires are extremely hot and explosive. Follow all the precautions and ensure you and your loved ones stay safe this Christmas!

OFFICIALLY PUBLISHED: CAN/ULC-S537-13 AND CAN/ULC-S536-13!
Toronto, Ontario – ULC announced that the Standard for Inspection of Fire Alarm Systems and the Standard for Verification of Fire Alarm Systems have now been published and are available for purchase either as a downloadable "PDF" or hard copy. You can review the official Bulletins by clicking on the appropriate link:
(English) CAN/ULC-S536-13 (Franšais)
(English) CAN/ULC-S537-13 (Franšais)
As Chair, I wish to take this opportunity to congratulate the members of the Working Group for all their hard work and sacrifice. Well done, guys!

VANCOUVER MAKES CHANGES TO AN IMPORTANT BYLAW!
Vancouver, British Columbia – One of the most important Bylaws in Vancouver which impact a building owners decision to upgrade an existing fire alarm system has undergone a major revision (as of September of this year). Electrical Contractors contemplating the complete direct replacement of a fire alarm panel or existing field devices must now take out a Building Permit (although stamped drawings or an Electrical Engineer's Letters of Assurance are not required) as well as an Electrical Permit. The Fire Alarm Verification must also be submitted to the Building Department Inspector for the area before the permits can be closed. You can read these important changes on the CofV's Website.

WE HONOUR OUR MILITARY VETERANS!
Vancouver, British Columbia – November 11, 2013 marked ninety-five years since the Armistice was signed ending World War One, which also, tragically, set the stage for Adolf Hitler's rise to power and World War Two. We honour the soldiers who fought courageously for their countries, many of whom never returned to their loved ones, and the far greater number who did and who suffered horrific injuries both physically and psychologically.
I've been listening to CKNW's John MacCombe over several weeks in the lead up to Remembrance Day and I hope that many of you in the Lower Mainland joined me in signing their online petition urging Canada's Government to review their current policies over the treatment our honoured Veterans receive. If you didn't (or happen to live outside of the Lower Mainland), please take the time to express your views on this important subject to your Member of Parliament.
To the men and women who have and continue to serve the citizens of our country, as well as those who continue to battle oppressive and brutal regimes around the world, I extend my heartfelt gratitude. I pray you'll return home safe, healthy, and soon!

VANCOUVER FIRE PREVENTION LTD. INVOLVED IN SOME VERY SHADY BUSINESS!
Vancouver, British Columbia – I don't know how else I can describe a situation I came across in a downtown Vancouver high-rise office tower where I was called in to commission the interconnection of the new elevator's Dedicated Detection and Recall Controller with the building's Edwards 6500 fire alarm system. There were a number of deficiencies we noticed and the inspection tag (stamped by an ASTTBC Registered Fire Protection Technician) was checked "Additional Work Required". This particular column of the tag (when checked or punched) always raises alarm bells with me (no pun intended). We're going to feature Vancouver Fire Prevention's first Burning Brick Award HERE soon! Watch for it!

"BASE BUILDING" – ANOTHER TERM FOR BUILDING OWNERS TO BOHICA*
I'm constantly amazed at the lengths to which contractors will go to cut corners. I recently attended upon a small strip mall in which three food establishments had recently opened. The building was constructed last year and features a Mircom FX-2000 fully addressable fire alarm system. I was called in to Verify the addition of a manual station at the new rear kitchen exit as well as the interconnection of the kitchen's suppression system. What I found astounded me. Here we have a building with four (4) separate floor areas and not a single data loop isolator in sight (in fact the data loop was "T" tapped right in the common control (see the photograph below).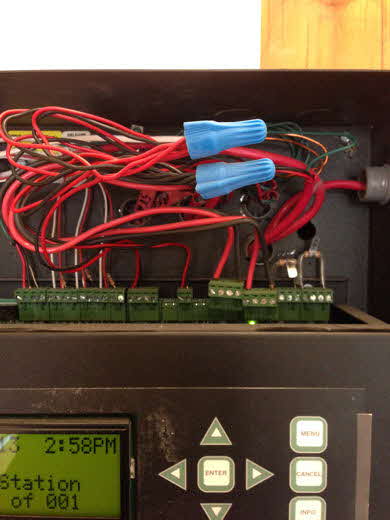 The "upshot" of all this is that the "base building" fire alarm installation (which formed a crucial part of my Appendix "C" Verification for the additions) failed. Interestingly enough, the technician from Mircom (who programmed the two new devices) informed me that he wouldn't have mentioned the lack of isolators on the Verification Report he would have filed on the same installation. Are there really two versions of CAN/ULC-S537-04 in use out there? Apparently so.
Another interesting aside to this story is that it also now appears that Mircom is moving towards restricting physical training on the FX-2000 to their in-house technicians only. Industry sources have indicated that all programming keys previously issued to dealers across Canada have been recalled.

PRINCE GEORGE ADOPTS BYLAW REQUIRING ASTTBC TECHNICIAN REGISTRATION!
Prince George, British Columbia - The latest jurisdiction to adopt a formal Bylaw requiring technicians that perform annual testing of building life safety equipment to be ASTTBC Registered is Prince George, B.C. We extend our congratulations to the Mayor, City Council and Prince George Fire Rescue Services for taking this positive step forward in helping to improve the safety of your citizens.

BRIAN STEGAVIG RESIGNS AS MANAGER OF ASTTBC'S FIRE PROTECTION PROGRAM!
Surrey, British Columbia - Brian Stegavig has formally resigned as the Manager of the Fire Protection Program at ASTTBC. Charles Joyner has temporarily assumed his responsibilities while the search for his replacement goes on. Brian will be sorely missed. His leadership, integrity, and passion for our industry have set the bar higher for all of us.

LAUNCHING A NEW (OR IMPROVED) DOO-DAD? GOT A STORY? SOMETHING OF INTEREST AND/OR NOTE-WORTHY?
Contact Us! We'll make sure it gets out there!
CALL FOR NOMINATIONS FOR A BURNING BRICK AWARD!
That wall of Burning Bricks keeps growing (unfortunately)! Click HERE to find out more!